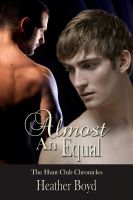 When Nathan Shern, Duke of Byworth's, empty sham of a marriage is threatened by a fellow duke he is naturally aggrieved. He cannot allow the potentially damaging contents of his wife's diary to reveal the depths of their estrangement because exposure of his secret dalliances with other men would taint his innocent children's lives. Not to mention end his life. So, without revealing his mission to his steward, Henry Stackpool, a man he trusts for everything else, Nathan undertakes to steal the diary back alone.
Former pickpocket and molly house whore, Henry Stackpool, works hard to keep his position as right hand to a moral man, the Duke of Byworth, but he fears his kind hearted employer is ill-equipped for a confrontation with his unstable opponent. Yet Henry cannot reveal his knowledge of the threat without exposing the secrets of his past or his keen interest in Byworth's safety. So when fate places Henry in harms way, he risks his hard won reputation to retrieve the diary. Yet he too is held captive, and when Byworth comes to his rescue his lies are revealed.
Can Byworth forgive him for his deception and will Henry keep the country life he's grown to love?
Review by Erastes
Sadly unoriginal story which I think I've read at least six times since starting reviewing the genre. That's not to say that it's not readable, because it is and at $2.99 it's not expensive. But it says nothing new and the characters and plot are so derivative I got a little bored.
Two men who both fancy each other and of course neither knows and both think they have heterosexual inclinations, then there's an intervention and suddenly PING they fall into bed together–they can't even look at each other (including in front of the children which was mildly repellent, no control at all) without getting instant hard-ons. You know. Then when they do go to bed, rather than being "Almost an Equal" the servant goes from calling the Duke "Your Grace" to "Nate" (after being asked to call him Nathan.) And in a day or so they are madly in love. Of course. Sound familiar? Yes.
Oh, and course the Token Woman who is necessarily Evil.
Then of course there's the obligatory BDSM elements which seem to be de-rigeur these days. It appears that you simply can't be a Regency homosexual without either being a sadistic rapist OR wanting to play BDSM games.
At the risk of sounding like a stuck record, it's self-published and yes, the editing is dire. The author clearly didn't bother to have anyone check it over (or if she did, she needs to use someone else) because there are dozens of typos–lack of apostrophes where they need to be, wrong homonyms etc etc.  I'm this close from never reviewing self-pubbed books again at this point.
I found myself intrigued, though in some respect. The books is subtitled "The Hunt Club Chronicles book 1" and Henry and his friend "Archer" were both whores at the ubiquitous upper class gay brothel so I would be interested in reading more about the background of the two men. It might have been better though had the saga started in the Club and shown how they left rather than showing it as backstory.
There is a large proportion of sex in the book, which will probably please many. The build up is teasing and then there's many long, long scenes which are meticulously described and well-written. Although, once again, there's nothing new here, the sex scenes were the best parts of the book for me.
I might try book 2 if it gets published, but if it's not noticeably better than this I won't be going on to book 3. Unmemorable.
Filed under: 2½ stars, ebook, England, Fiction, Heather Boyd, novella, Regency, Reviews |